Let our CENTURY 21 Sweyer team share with you the best upcoming events in Southeastern NC!
 New Hanover County:
14th Annual Good Shepherd Center Gold Tournament
April 2nd and 3rd
Tournament Admission: $250
Sports Evening Admission: $16.50 – $46.50
The 14th Annual Good Shepherd Center Golf Tournament Tee Off Dinner takes place at the Country Club of Landfall the night before the Tournament. The Good Shepherd Center Games Day and Sports Evening features Duplicate Bridge, Party Bridge, Mah-Jongg, Mexican Train, Poker or Hand & Foot, plus a Silent Auction with an assortment of items and door prizes.
Butterfly Release at the New Hanover County – Main Library
April 4th at 11am
Painted Lady larvae have been changing into butterflies at the Main Library in downtown Wilmington, NC, over the past several weeks, and they are expected to take flight soon (please call to confirm date). Once all the butterflies have hatched, the butterflies will be released into the butterfly habitat in Story Park.
Fort Fisher Aquarium Alligator Egg Hunt
April 14th and 15th at 10am and 1pm
Admission: $10.95 – $21
The annual Alligator Egg Hunt at the North Carolina Aquarium at Fort Fisher offers children ages 3 to 10 a chance to meet a live baby alligator, create alligator egg baskets, and hunt for candy-filled eggs in the garden. This is the perfect family friendly event!
Brunswick County: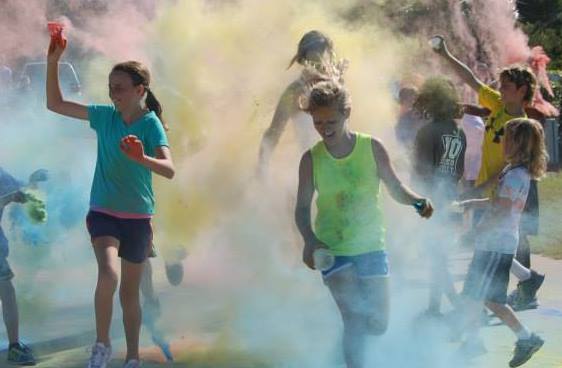 Holden Beach 5K Color Run
April 1st at 10am
Holden Beach hosts a free, family-oriented 5K race.  Walk or run, all are welcome to participate.  Wear a white shirt, or purchase a white event T-shirt, and enjoy the color burst.  Be there by 9:00 a.m., the race will begin at 10:00 a.m. Younger kids (5 and under), who want to ride their bikes are more than welcome to do so! The purpose of this event is to have as many families as possible to come out and enjoy exercising together. Dogs, cats, gorillas, and baby strollers are all welcome!
April 13th from 7pm-9pm
Admission: $5
Enjoy an adult-style Night Egg Hunt at Leland Municipal Park featuring a flashlight egg hunt, live music with 120 Minutes (90s tribute band), plus food and beverages available for purchase, and prizes.
April 29th from 7am-12pm
This event will be held in several locations throughout the Town of Southport, including; Trinity United Methodist Church, Franklin Square Park and the Southport downtown area.  Kayaking, a birding walk, boat tours, and excursions to the Green Swamp Preserve and Sea Biscuit Wildlife Shelter will be available for all to enjoy nature's offerings.

Onslow County:
Jacksonville Healthy Kids Running Series
April 2nd through May 7th
Admission: $35 for the entire series
The Healthy Kids Running Series is a five (5) week running program in the spring for kids from Pre-K to 8th grade at the Jackson Commons Recreation Center. Each Race Series takes place once a week and offers age appropriate running events including the 50 yard dash, 75 yard dash, the 1/4 mile, the 1/2 mile and the one mile run. Run at your own pace – all receive a medal and gift bag for their achievements courtesy of our sponsors!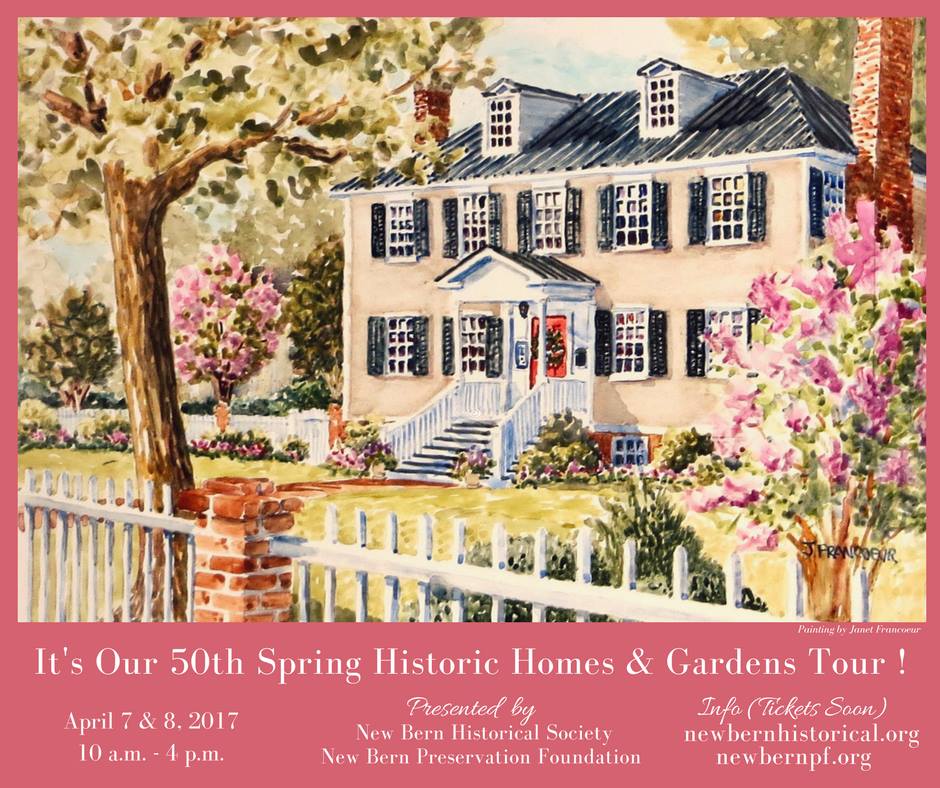 New Bern Spring Historic Homes and Gardens Tour
April 7th and 8th from 10am-4pm
Admission: $14–$18
This year marks the 50th Anniversary of New Bern's Spring Historic Homes & Gardens Tour. Ticket holders will be welcomed into private homes, gardens, and churches in three historic areas: the Downtown district, and the nearby Ghent and DeGraffenried neighborhoods. To help celebrate the 50th Anniversary, '60s-themed events and memorabilia will be on display at The City Laundry which, along with serving lunch, will have live entertainment, including The Bears and The Down East Dulcimers.
Jacksonville Art Block
April 29th
Art Block is a day-long, annual festival featuring local & regional arts, crafts, music and other performances in downtown Jacksonville. It's a great way to experience the arts, meet artists, and enjoy food trucks, face-painting and kid-friendly make-and-take crafts. Admission is free! Upcycled chairs are turned into works of art and sold in a silent auction. Proceeds support the Arts Council and art programs in Onslow County.
Pender County:

Poplar Grove Annual Herb and Garden Fair
April 1st and 2nd from 9am – 4pm
Admission: $5
The area's largest and longest running plant and garden sale, also featuring classes, activities, and garden, nature and all-natural exhibits. The grounds of Poplar Grove will be filled with a wonderful selection of locally grown plants of all types – herbs, perennials, annuals, hanging baskets, shrubs, native plants, vegetable starts, and houseplants, plus garden art and accessories, herbal and all-natural products, artisan crafts and local foods.
Poplar Grove Farmer's Market
April 19th from 8am-1pm
The Farmers' Market at Poplar Grove was established to provide a retail outlet for local farmers and producers to sell their goods directly to consumers. The market strives to promote local farmers and the use of local products, educate consumers on conservation practices, and provide the local community an opportunity to get to know their farmer, their baker and their artisan maker.
Make plans to join CENTURY 21 Sweyer & Associates at these events! We will see you there!