If you would like to pay your respects to the veterans of Wilmington, North Carolina, visit our National Cemetery. Located at 2011 Market Street, this final resting place is reserved for soldiers dating back to the Civil War.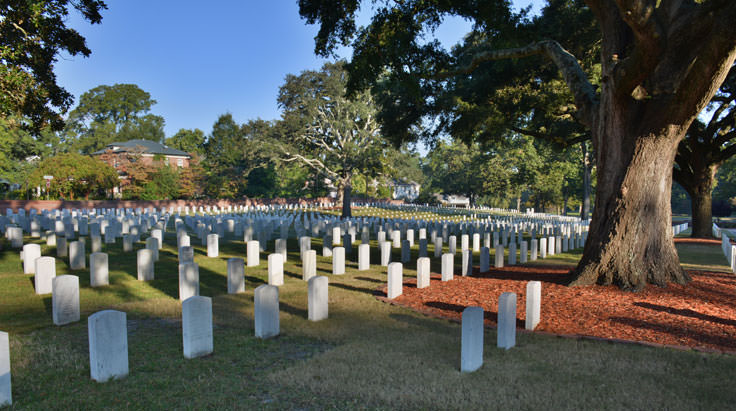 During the Civil War, the town of Wilmington played a key role as it was a major supply line to Confederate troops, and by 1865 was the sole remaining supply line to General Lee. It was ardently defended by Fort Fisher, but they fell to the Union after heavy shell bombardment.
The cemetery was established in February 1867, two years after the end of the Civil War, when the United States government purchased 5 acres of land from a local resident. Wilmington National Cemetery was listed on the National Register of Historic Places in 1997.
Serene and beautifully maintained, this hallowed ground is open from sunrise to sunset. Visitors are permitted to walk through the grounds and under century-old oak trees. Artificial flowers and potted plants will be permitted on graves between October 10th – April 15th, but permanent plantings, statues, vigil lights, breakable objects, and similar items are not permitted on the graves.
To search through burial records, click here
For their unofficial Facebook page, click here