Wilmington, NC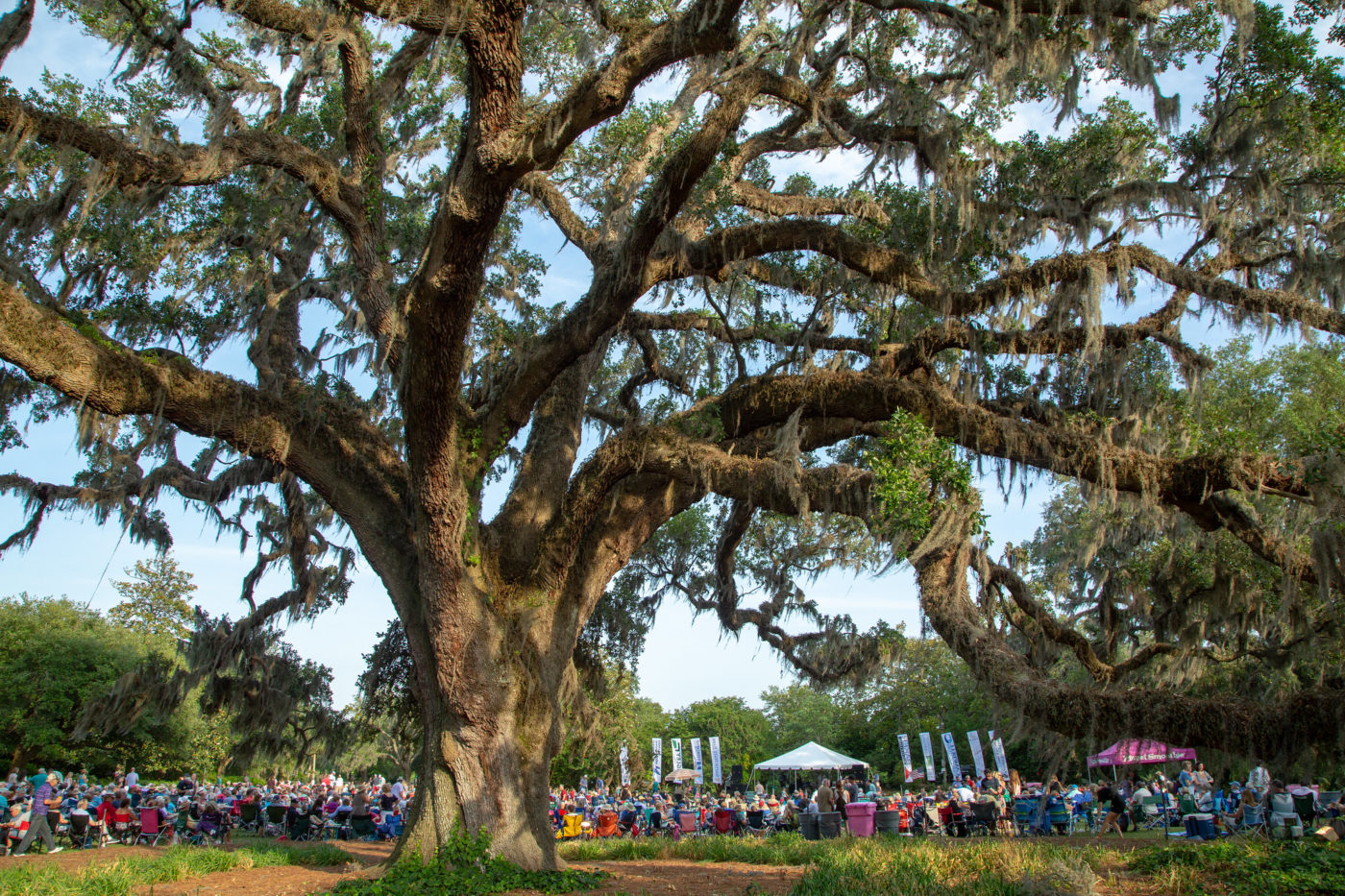 General public tickets will go on sale the week of each concert. Parking for attendees will be off-site at the Northeast Library (1241 Military Cutoff Road) with free shuttle service into the gardens. Shuttles will start running at 5 p.m. On-site parking is by permit only.
Friday, June 3 – reSoul (R&B)
Friday, June 17 – Signal Fire (Reggae)
Friday, July 1 – No Regretz (Classic rock)
Friday, July 15 – Bibis Ellison (Pop/covers)
Friday, August 5 – The Feebs (Dance music)
Friday, August 19 – Machine Gun (80s, 90s and more)
Friday, September 2 – The British Invaders (Beatles cover band)
Since 2010, the Bellamy Mansion Museum and Cape Fear Jazz Society have partnered to highlight locally, regionally, and nationally acclaimed jazz performers. On the second Thursday of each month May through September, join us for a concert on the lawn of the Bellamy at 6:30 pm.
Thursday, June 9: Bajissima Latin Jazz

Thursday, July 14: Jim Ferris Trio

Thursday, August 11: Mangroove Jazz Quintet

Thursday, September 8: El Jaye Johnson Band

Port City Marina and Marina grill in Downtown Wilmington are partnering to offer FREE public concerts! Port City Marina will be hosting nine different tribute bands playing all your favorite covers.
Fridays 7:30 PM – 10:00 PM
May 27th – Tuesday's Gone
June 4th – Funky Monks
July 1st – 20 Ride
July 8th – Breakfast Club
July 29th – Cosmic Charlie
August 5th – Fix You
August 12- Guardians of the Jukebox
August 19th – Abbey Road Live
September 2nd – Departure

Downtown Alive Concerts
Saturdays, May – September 5:00 PM -10:00 PM
Updated 5/25/22 – Downtown Alive Concerts have been canceled for the summer.

LELAND:
Come enjoy our free concert series in Founders Park! Bring your blankets or chairs and family and friends. Coolers are welcome, but tobacco is prohibited on all Town property.
Certain Thursdays 6:30 PM – 8:30 PM
May 26th – Port City Shakedown
June 2nd – The Tonez

WRIGHTSVILLE BEACH:
Bring your picnic, lawn chairs, and blankets for an evening of music and fun! Coolers are welcome, but no alcohol is allowed in Wrightsville Beach Park.
June 9th – FEEBS
June 16th- Port City Shakedown
June 23rd – Southern Trouble
June 30th – Uptown Easy
July 7th – Jack Jack 180
July 14th – Overtyme Band
July 21st – reSoul Band
July 28th – Dekker Road

SOUTHPORT
Thursdays 6:00 PM – 8:00 PM
June 2nd – Back Porch Rockers (Classic Rock/Blues)
June 9th – NowCat (Classic Rock/Country)
June 16th – Brunswick Big Band (Big Band)
June 23rd – Zilches (Classic Rock)
June 30th – N/A

July 7th – Christina Martinez Band (Americana)
July 14th – Carolina Line Band (Bluegrass)
July 21st – Parlay (Classic Rock)
July 28th – Chance Union (Rock/80s & 70s)
August 4th – Charlene & the Charlatans (Bluegrass)
August 11th – A Class Act (Top 40, Beach, Shag)
August 18th – Luna Sea (Rock/Soul)
August 25th – Salty Dawgs (Rock, Pop, Country)
September 1st – Blues Kings (Blues/Jazz)

HOLDEN BEACH
Sundays 6:30-8:00 PM
All concerts are FREE and are held at the Holden Beach Pavilion
May 29th: Carolina Kool
June 5th: The Main Event Band
June 12th: The Embers
June 19th: Continental Divide
June 26th: The Tams
July 3rd: The Extraordinaires
July 10th: The Entertainers
July 17th: Chairman of the Board
July 24th: Band of Oz
July 31st: Carolina Breakers
August 7th: Blackwater Band
August 14th: North Tower Band
August 21st: Gary Lowder & Smokin Hot
August 28th: Too Much Sylvia
September 4th: Cat 5
KURE BEACH:
1st and 3rd Sunday 5:00 -7:00 PM
Bring your beach chair or blanket and enjoy free, live music by the sea! No concert July 4th or Labor Day weekends.
5/1 – Uptown Easy
5/15 – Signal Fire
6/5 – The Donald Thompson Band
6/19 – Gary Lowder & Smokin' Hot
7/17 – Down South Thunder
8/7 – Into the Fog
8/21 – Lynne and The Wave
9/18 – Circle City Rockers
10/2 – South of K
10/16 – Big Time Shine

HAMPSTEAD
Fridays 6:30 PM
Attendees are encouraged to bring blankets and chairs to enjoy the entertainment. Various food trucks will be on-site throughout the series. Alcohol and pets are prohibited.
May 20 – Carl Newton
June 3 – Big City
June 17 – The Cruise Brothers Band
July 8 – Blackwater Band
July 22 – The British Invaders
.
.
.
.
.
.