Let our knowledgeable team of real estate experts be your guide to the best events in Southeastern North Carolina.  Our team not only knows real estate, but they know the area as well!!
New Hanover County Events:
July 5th through 9th at 8:00 pm
Thalian Hall on Chestnut Street
Opera House Theatre Company presents Camelot live on stage at Thalian Hall in downtown Wilmington, NC. Based on The Once and Future King by T. H. White, King Arthur and his new queen, Guinevere, create a realm where idealism can flourish even in the Dark Ages. Their kingdom attracts the bravest and most gallant knights, including the dashing Lancelot — launching the most fabled love triangle of all time.
7th Annual Ellie White Foundation Fundraiser
July 6th at 6:00 pm
Manna Restaurant on Princess Street
The 7th Annual Ellie White Foundation Dinner at Manna in downtown Wilmington, NC, features guest chef Katie Button, executive chef and co-owner of Cúrate Tapas Bar and Nightbell in Asheville. The evening includes a Social Hour, presentation with Ellie & Katie, dinner, and a silent auction. Proceeds benefit the Ellie White Foundation for Rare Genetic Disorders.
Fridays from 6:30 – 10:00 pm
Riverfront Park on Water Street
The 12th Annual Downtown Sundown Concert Series returns to Riverfront Park in Wilmington, NC each Friday through Sept. 1st. July features Red Zeppelin, Mocktallica, Wrong Way, and Hey Johnny.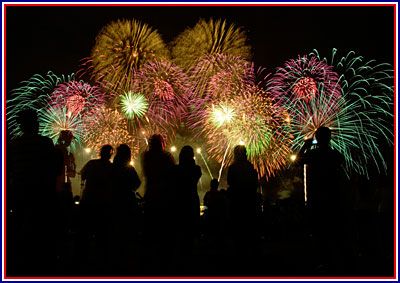 Live Music and Fireworks by the Sea
July 13th from 6:30 – 9:30 pm
Carolina Beach Boardwalk
The Carolina Beach Boardwalk hosts live music in a classic Americana setting. When the sun sets, stick around for a spectacular firework display over the shimmering Atlantic Ocean.
Brunswick County Events:
North Carolina 4th of July Festival
June 25th through July 4th
Southport Waterfront at Yacht Basin Drive
The North Carolina 4th of July Festival in Southport is one of the largest festivals of its kind in the state and includes a Farmers' Market, art show, beach day, skateboard competition, concerts, shag contest, food concessions, activities for kids, arts & crafts, parade, car show, regatta, pro wrestling, and culminates with a huge firework display on July 4 at 9 pm.
Sundays at 6:30 pm
Holden Beach Pavilion on Jordan Boulevard
Each Sunday night at 6:30 pm, families gather at the Holden Beach Pavilion for free summer concerts. Put on your dancing shoes and bring your beach chair. The July line-up features: Blackwater Rhythm and Blues on the 2nd, The Tams on the 9th, and Too Much Sylvia on the 16th!
Tuesdays from 2:00 – 3:30 pm
Holden Beach Pavilion on Jordan Boulevard
Admission: $5 for shirt, dye, and supplies
Commemorate your vacation with a tie-dyed t-shirt at the Holden Beach Pavilion near the bridge. Every Tuesday vacationers can tie dye a t-shirt in any style they choose, under the shade of the pavilion with the cool waterway breeze.
Mondays and Tuesdays from June through August
The Ocean Isle Beach Sea Turtle Protection Organization (OIBSTPO) proudly presents Turtle Talks during the summer months. The Talks are free with regular admission to the Museum of Coastal Carolina.
Onslow County Events:
8th Annual Ocean City Jazz Festival
July 1st and 2nd at 5 pm
Two nights of great jazz music! What do you get when you combine the best in jazz together with devoted fans, a beautiful white sand beach, and good old "Crystal Coast Charm"? You get the most exciting, most talked about jazz festival in the North Carolina! The Ocean City Jazz Festival celebrates its 8th year with a tried and true formula of the top names in jazz and the vacation destination of North Topsail Beach!
Hands on History: Images Through Time
July 8th from 10:00 am – 4:00 pm
CSS Neuse Civil War Interpretive Center on Queen Street
Admission: $5
Visitors will be invited to view and even handle some examples of different types of photos developed around the Civil War Era. They will have an opportunity to have a tin type taken by Harry Taylor Photography for a fee. An artist will be available to draw silhouettes for a fee and there will be free crafts for children. This will offer all visitors the chance to see how photography has developed and expanded over time.
July 13th at 10:30 am
Swansboro Recreation Center on Main Street
Admission: $15
Learn interesting facts and information about the local shell fish of the area on a 2-hour cruise aboard the Lady Swan. This trip will take you to nearby Jones Island where you will gain information about oysters, clams, and blue crabs. Learn the basics of how to harvest oysters and clams, and how to catch crabs. Try your hand at crabbing when docked at the island.